28 dec 2013-December
has been busy with 2 interesting works, a beauty tvc for an italian brand and a web production ,
13 episodes, in progress, for an international client. We shot several days in Genova and one day in milan, it has been intense, but interesting.Genova has wonderfull locations. Both the team were fast, and it has been a pleasure to work in both situations even if I were a bit stressed. Working with new people is always interesting you discover new crew members , new client, new agency and new client that are so different one form te other. Genova has a wonderfull sea, the place you see after working and the wind are unique, and it's such a live city in my opinion ,with theatres, writers, and a strange energy.
Working with 30 different actors and one model has been really interesting, any person has his mood, his talent and any person needs a different approach to get the best. Directing actors is a work that starts before the camera roll, if you make them feel safe they will do their best, and you can ask them a lot, even if the time is not a lot, and even if tehy are judged by a lot of people in front of the monitor.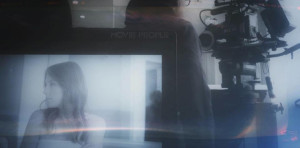 Actors feel what you are doing with them a lot and they smell if you are with them or not, they feel it, and when they do a good job to me is always a great moment, it can be a tvc, a show, we have done something together.
A friend from the crew brought me to see a live tv show she was working in, it has been fun to see the tv live!!! such a different work from the work I do, interesting cause it happens while it goes onair.
Xmas has been hard, as usual but we are happy and out of it I hope everyone will have a wonderfull 2014 ful of peace, energy work and joy!!!